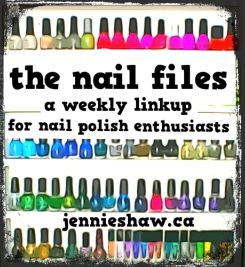 **Link up with us to show off your cute manis (either done by yourself or in a salon), nail polish purchases and/or recommendations, nail polish tips--whatever nail-related thing you'd like! And please use the button and/or link back to this blog. Thanks!**
***
Woot woot! It's nail files time!


This week, I just about lost my whole mind when my order of rhinestones finally came! There are blue ones and purple ones and black ones and pink ones PLUS an entire wheel of fun shaped silver ones! Eeeeeeeeee!
So, naturally, I spent the next few hours playing around and ended up with a really awesome, but pretty simple mani.
For the base coats, I did three coats of
At Vase Value
and
Skinny Dip
, and two coats of
Paper Mache.
Yes, I know, three-coat-base-colours are the worst, but sometimes, a great colour requires it so just make sure that you carve out enough time to let it dry. Or cheat a bit and throw on some quick-dry top coat, which I may or may not have done after the second coat (emphasis on the may, haha!).
Once that was dry, I put a drop of clear polish where I wanted the orange rhinestone (with a dotting tool) and then put the rhinestone on top. I used the same technique for the teardrop rhinestone. One coat of quick-dry top coat sealed it all in and made everything all shiny and awesome.
Sorry about the focus here. I didn't notice until I uploaded it here that it's way blurry on my ring finger. *headdesk*
The coolest part of this mani, is that the rhinestone combo looks like an exclamation point! And since that's my favourite punctuation ever, it's quite fitting that I'm rocking them. Haha! YAY FOR EXCLAMATION POINTS!
And on another note, a super awesome email got forwarded to me this week, which originated from the Highlands of Scotland. Apparently, there are some nail polish enthusiasts up there who were inspired by the nail files, and look what they managed to do!
So cool, eh?! Great job, Jessie (and assistant)! Hope you had a super fun time at the summer disco!
What are you rocking this week? Link up and show em off! And if you live in the US of A, Happy 4th of July! Yay fireworks!