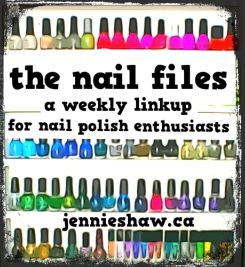 **Link up with us to show off your cute manis (either done by yourself or in a salon), nail polish purchases and/or recommendations, nail polish tips--whatever nail-related thing you'd like! And please use the button and/or link back to this blog. Thanks!**
***
A happy accident happened this week when I tried to do something cool but something even COOLER ended up going down. And isn't it just the BEST when that happens? Why, of course it is!
I started with one coat of Paper Mache, originally thinking that it's make the colours pop. When it was dry, I got a triangle makeup sponge and painted one corner with a line of I'm With The Lifeguard, and then applied the polish in three or four places, per nail, with a technique I like to refer to as "splooging," meaning that I gently dabbed the polish on, while changing the direction of the sponge so the pattern looked abstract.
Because this green is kind of transparent, I decided that it needed its own sponge or it would be totally overpowered by the other colours. When the green was dry, I used the same splooging technique with another sponge and I Sea The Point and Creative Fantasy. The only difference is that I used these two polishes on the same sponge, because purple and blue look good when they blend.


The interesting part was that the colours actually muted themselves when they went over the white, instead of making them more vibrant. So what I was left with was more of a pastel-y watercolour kind of deal than what I imagined. The good news is that I thought it was still super cool, and the even better news was that one coat of splooging got great coverage, but it needed a little something extra, so I got another makeup sponge and added a few splooges of
Gossip Over Gimlets.
Note: I'm REALLY liking the word splooging, so, uh, let's make that a real thing, okay? Haha!
I freaking LOVE how they turned out, but had a hard time coming up with a name. First, I thought about
the nails that Bailey did a couple of months ago
, but another memory was picking at the back of my brain, as childhood memories often do. And then, it hit me! My nails reminded me of wallpaper that my grandma used to have, way back in the 80s! Haha! So not only are my nails awesome, they also remind me of grandma, which makes them extra, mega awesome. Because, you know, she's just the best.
What kind of pretty nails are you sporting this week? Link up and show em off!