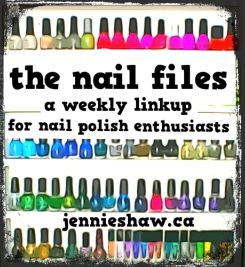 **Link up with us to show off your cute manis (either done by yourself or in a salon), nail polish purchases and/or recommendations, nail polish tips--whatever nail-related thing you'd like! And please use the button and/or link back to this blog. Thanks!**
***
YAY! It's nail files day, which means that it's also Friday!
Who else needs a cocktail after this week?
Haha! I will always heart New York.
Anyway, this week, I was inspired by this pic.
Here's what I used:
And the mani!
Confession time: I did the flower on my middle finger first and it was too big to have opposing flowers. Whoops! I think it turned out well though.
I used two coats of
Paper Mache
as a base, on all fingers. For my ring finger, I followed it up with one coat of
Gilded Chrome
. And yes, I really do mean one coat. That glitter
covers,
y'all (shout out to
Heather
, who's gotten me saying this in real life despite being Canadian--haha!).
The flowers were a bit trickier, because I wanted to have a bit of a fade. With a small, tapered nail art brush, I did the lighter colour first (At Vase Value and Tart-y For The Party), starting at the corner of my nail and then going towards the other side. When all four petals were done, I went over the outer petals with the darker colour (Turned Up Turquoise and Queen B). For a little bit of sparkle, because sparkles make everything better, I used a thin liner nail art brush and Gilded Chrome. Then, I VERY CAREFULLY used Black Stripe Rite to do the border. Warning, if you're at all hungover, this isn't the mani for you to do cause you'll be too shaky. Haha! An orange jewel finished it all off and added a little more sparkle because I simply can't help myself.
I freaking love the pants off this mani, guys and gals. The colours are so pretty and the white background makes it really pop. Plus, having Gilded Chrome all over my ring finger is pretty much the funnest ever.
What are you rocking this week? Link up and show off. And have an awesome weekend!