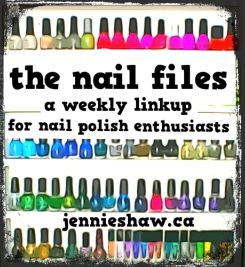 **Link up with us to show off your cute manis (either done by yourself or in a salon), nail polish purchases and/or recommendations, nail polish tips--whatever nail-related thing you'd like! And please use the button and/or link back to this blog. Thanks!**
***
This week, I found inspiration in my
overly rhinestoned
jewellery collection.
To start, I did two coats of Paper Mache on every finger. When that was dry, I applied two coats of Celtic Sun to my thumb and ring finger, and two coats of set in stones to my pointer finger.
When the coloured and sparkly coats were dry, I got out my rhinestones and picked out three sizes of leaves. Arranging them like the rhinestones in the necklace, I applied them with the smallest first, at the base of my nail, and worked upwards. The squares on my thumb are all the same size, so I didn't have to worry about how they'd go down, and just placed them in the middle of my nail.
A thick coat of top coat sealed everything, and after six days, the mani was still completely intact! I was amazed, considering how many rhinestones I had going on, but that top coat really kept them secure. Yay!
I really love the brightness of Celtic Sun and can you ever go wrong with rhinestones? Of course not. #alltherhinestones Haha! I think my pointer finger, with set in stones, is an excellent supporting feature finger, and it balances the sparkle-ness pretty well. Yay for fun jewellery that also makes for a fun mani! Woot woot!!
Have an awesome weekend, everyone! And don't forget to link up to show off your pretties!