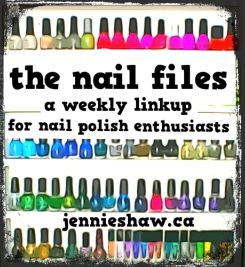 **Link up with us to show off your cute manis (either done by yourself or in a salon), nail polish purchases and/or recommendations, nail polish tips--whatever nail-related thing you'd like! And please use the button and/or link back to this blog. Thanks!**
***
This week, I was challenged by the awesome
Daniela
, to do this:
I'm not super into Shark Week, but I am into themes, so I decided to give it a go. And it turned out pretty well, I think! Yay!
And here's Chompers! (Hahaha, of course I named him.)
For the Seascape:
I started with one coat of I Sea the Point on my pointer, ring, and pinky finger, while my thumb got two coats. Using a triangular makeup sponge, I painted a stripe of Paper Mache with a stripe of I Sea the Point below, and then sponged it (happy, Bailey? Haha!) onto my pointer, ring, and pinky finger. It still wasn't quite opaque though, so I did two coats of the sponge. Then I did a coat of quick-dry top coat, to seal it.
With a narrow nail art brush, I painted random squiggles for waves with Margritte's Masterpiece and Wait N' Sea. The birds were done with the black Stripe Rite, and the shark fin used avenue maintain, with some highlighting from OPI's I Want to be A-Lone Star (not pictured).
For the Shark:
No base colour, only clear base coat. With the brush from avenue maintain, I made a rounded triangle for the shark head. Then, I used Dance Baby for the inside of the mouth, and went over the outline with white Stripe Site, making small triangles and then filling them in, for the teeth. Two black dots for eyes finished it all off.
This mani was a lot of fun to do, so thanks for the challenge,
Daniela
! And what do you think, did I nail it? Haha!
What are you rocking this week? Link up and show off!