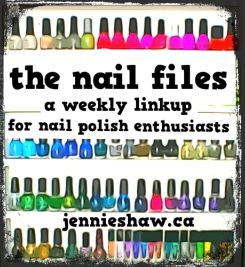 **Link up with us to show off your cute manis (either done by yourself or in a salon), nail polish purchases and/or recommendations, nail polish tips--whatever nail-related thing you'd like! And please use the button and/or link back to this blog. Thanks!**
***
It's been a crazy week in the Happypants Household, but I was still able to do my nails. Shocker, I know. Haha!
I started with two coats of Wild Wisteria on my thumb, pointer, and pinky finger, while my middle and ring finger got two coats of Oxygen. To finish off my thumb, pointer, and pinky finger, I added a big circular piece holo glitter from I Snow You Love Me.
My middle and ring finger required a bit more effort to create the glitter fade. On the top third of each nail, I did one coat of Sparkle and Snowflake. With the silver Rite Stripe, I dabbed on silver glitter along the bottom of Skarkle and Snowflake and down a little, so it didn't look like a solid glitter line. I added two rows of overlapping big circular holo glitters from I Snow You Love Me and then used the smaller hex holo glitters from Techno to fade towards the bottom of each nail.
I think it's a perfect mix of sassy and sweet, hence the name of this post. The light pink and holo glitter is so princessy that I think it'd be too much with every finger. Not that I'm every scared of "too much," of course. Haha! But having the super dark purple as a contrast makes it work even better, I think. And man, when the sun hits the holo glitter, BLAMMO! Haha!
What are you rocking this week? Link up and show off!