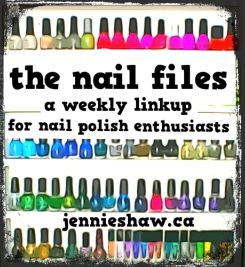 **Link up with us to show off your cute manis (either done by yourself or in a salon), nail polish purchases and/or recommendations, nail polish tips--whatever nail-related thing you'd like! And please use the button and/or link back to this blog. Thanks!**
***
This week, inspiration came from Miss Pop Nails' Instagram account.
Here's what I did!
For the base coat, I used two coats of Paper Mache. When that was dry (read: the next morning), I used semi-circle and simple chevron stickers to map out where Celtic Sun, Shocking Pink, and At Vase Value would go. Then, with a small, flat nail art brush, I applied all of the colours--two quick coats--and then peeled off the stickers.
As usual, there was bleeding (*shakes fist*), but I managed to clean most of it up with a narrow nail art brush and some acetone. I sealed it all with a coat of quick dry top coat (HK Girl's Glisten and Glow for those who are interested, haha!).
It was still missing something, though, so I added two studs to the fingers with Shocking Pink.
I love how, when I'm inside,
Celtic Sun
is all: Hey, I'm neon yellow! But the second I step outside, it's all: HEY! I'M NEON YELLOW! LOOKATMELOOKATMELOOKATME! Haha! I love all the different shapes going on in this mani and the yellow really does make it all pop.
What are you rocking this week? Link up and show off!