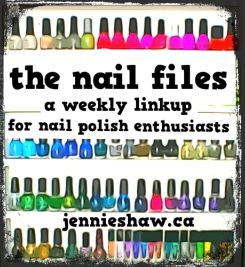 **Link up with us to show off your cute manis (either done by yourself or in a salon), nail polish purchases and/or recommendations, nail polish tips--whatever nail-related thing you'd like! And please use the button and/or link back to this blog. Thanks!**
***

Woot woot! It's Friday!
FRIIIIIIIDAAAAAAAY!


This week, I had some pinspiration, which really is the best, right?

I love the bright colours but since it's fall (*weeps silently*) I figured that I'd tone it down just a smidge. Or, as toned down as a mani can get when it has a total sparkle base coat. Haha!
What I used:
The mani:
The base coats are one coat of Rebel and one coat of Sparkle and Snowflake. The texture was pretty rough, so I filled it with two coats of quick dry top coat in order to get a smooth line for the colours. When that was dry (like way dry) I cut up strips of painter's tape to use for the triangles. I had proper striping tape but it's not very wide and I usually go over the lines, so I've taken to using painter's tape unless I want very thin stripes.
Hint: if you use painter's tape, rub the edges quickly with a finger, to warm it up because that's the best way to make sure you've got a solid seal. And if you have a solid seal, then you can do two quick coats before peeling off the tape.
I used
Do You Have This Colour In Stock-holm
first, on my pinky, pointer finger, and thumb, while the other two fingers got
I Sea The Point
and
Kiwi Cool-ada.
I let that dry for a while, and then added the second layer of triangles, using
after school boy blazer
and
Do You Have This Colour In Stock-holm.
Trying to make each finger look different was more of a challenge than I'd anticipated, but I think they ended up looking random enough. If I were to do it again, I think I'd make the triangles a bit wider, so they're less spot-light-y. Haha! I'm awesome at descriptions. ;)
I hope you all have an amazing weekend filled with the funnest of times!
And don't forget to link up and show off your nails!