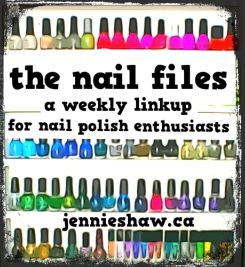 **Link up with us to show off your cute manis (either done by yourself or in a salon), nail polish purchases and/or recommendations, nail polish tips--whatever nail-related thing you'd like! And please use the button and/or link back to this blog. Thanks!**
***
So I'm pretty much obsessed with
Intelligence, Integrity & Courage,
which is why I used it again this week. I swear, it's the best grey I've ever had. You should really get yourself a bottle, guys. DO IT. It's so perfect for fall. SO PERFECT. Okay, enough screaming...for now. Haha!
This mani was easy peasy with two coats of each colour, followed by a clean up around my cuticles with a thin nail art brush and a bit of acetone, and then finished off with a coat of quick-dry top coat.
A few hours later, I added the rhinestones. Some may not wait as long, but I've learned that unless the polish is TOTALLY dry, I end up denting it when I finoogle (technical nail term*) with the gems.
*Not really
Because I have seriously curved nail beds, it's really hard to get the gems centred when my hand is flat, and also when it's curled, which is why I have to finoogle the crap out of every gem/stud I put on, taking turns curling and straightening my fingers to make sure they don't look like they're leaning to one side.
And since there's nothing worse than spending the time to paint your nails, only to be forced to redo them because of dents, I've finally gotten the point that waiting a long time before putting on any kind of embellishment is the way to go. For me, anyway. You, flatter nail bed guys and gals probably wouldn't have to wait as long. Not that I'm bitter or anything, of course...okay, so maybe there's a little bitterness, but it's sprinkled with love as well. Haha!
What wonderful manis have you been rocking this week? Link up and show off!