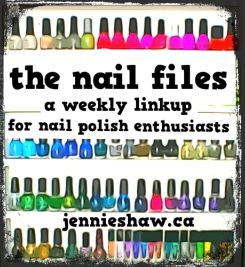 **Link up with us to show off your cute manis (either done by yourself or in a salon), nail polish purchases and/or recommendations, nail polish tips--whatever nail-related thing you'd like! And please use the button and/or link back to this blog. Thanks!**
***
Thank goodness it's Friday,
amirite
?
And not just because it's nail files day, but also because this week was loooooooooooong, guys. Why have they all been so long lately? CURSE YOU, LONG-FEELING WEEKS!
Haha!
I miss Alex.
Anyway, the inspiration for this week's mani came from this gorgeous little thing:
To die, right?
*sighs happily*


I may have gotten a little carried away with my tribute, though (shocker), but I really do love how it turned out.
The mani:
I started with two coats of Oxygen on my thumb, pointer, and pinky fingers. My middle finger got two coats of Payton, and my ringer finger got two coats of Gossip Over Gimlets.
For the gradient, I painted stripes of Oxygen, Highlight of My Summer, and Payton onto a makeup sponge, and then applied it to my thumb. I did four rounds of this before coming to the conclusion that it wasn't going to get any darker at the top. Ha! You could probably get away with three coats.
For the sparkles, I started with a third-ish coat of set in stones and, when that was dry, picked out some of the holo circles from I Snow You Love Me, and placed them along the bottom quarter of each nail. When those babies had dried, I finished with a third-ish coat of Paris.
So there you have it: why pink 'n green should always be seen (together...with glitter, ha!).
What have you been rocking this week? Link up and show off!
Hope you all have an awesome weekend!
(I'm actually going to my first Julep Maven Meetup at five, today, so I'm all set for awesomeness. Eeeee! I'm so excited to check it out and then report back on how it was!)