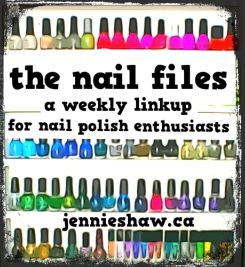 **Link up with us to show off your cute manis (either done by yourself or in a salon), nail polish purchases and/or recommendations, nail polish tips--whatever nail-related thing you'd like! And please use the button and/or link back to this blog. Thanks!**
***
It's time! It's time!
YAY FOR HALLOWEEN!!!!!
Nobody expresses my excitement level like Big Ang. #mobwivesforlife
In case you haven't noticed, I'm hella psyched. Haha! But how could I not be? It's finally dress up day, which is one of the top three days of the whole freaking year!
Woot Woot!!
And although the mani I'm sharing this week doesn't match my costume, it's still totally Halloween-y.
I started with two coats of
Iconic Orange
, and then did two coats of the gradient, using a triangular make-up sponge. When that was dry, I added white dots for the eyes with a large dotting tool, and added black pupils with a medium dotting tool. That's it, folks! And as much as
Daniela
likes to make fun of me for saying (loveyourfacegirl), it was a pretty simple mani! Haha!
What are your plans for tonight? What are you dressing up as? I WANT TO KNOW BECAUSE HALLOWEEN IS THE BEST (NO I DON'T CARE THAT I'M SCREAMING). Haha!
Don't forget to link up and show off your pretties!
Also, as a small announcement,
Toria
will be hosting a Jamberry party on her blog on Nov 14, so mark it in your calendars! There'll be some activities and the chance to win some prizes. :)