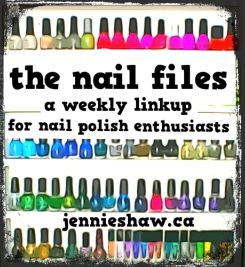 **Link up with us to show off your cute manis (either done by yourself or in a salon), nail polish purchases and/or recommendations, nail polish tips--whatever nail-related thing you'd like! And please use the button and/or link back to this blog. Thanks!**
***
Woot woot! It's Friday! Only two weeks until Halloween!
I've seen some mega scary nails out there for Halloween, but I'm a total scardy-cat, so I'm opting for a more fun loving kind of mani. Please keep your shredded tips to yourself.
*shudders*
I kept it pretty simple, using only black and white.
Believe it or not, this was a really easy mani. I applied two coats of base colour and then let it dry for a while. With the brush from the bottle, I used
Paper Mache
to make the ghosts. A few black dots for the eyes and the mouth and voila! Ghosts!
I've been on another nail art supplies binge and picked up some neon studs a couple of weeks ago. There were some small neon orange circles, so I added them, followed by some rhinestones because I
seriously cannot handle
a mani without some sparkle.
The rhinestones are hard to see with the indoor picture, but BAM, did they stand out when I went outside. Haha!
Are you rocking Halloween nails already? If so, what are you wearing? And don't forget to link up and show off. Happy weekend!
(Also? Anyone else singing Fergie in their head? Whenever I see the word glamourus, I have to spell it. Fergie style. Haha!)