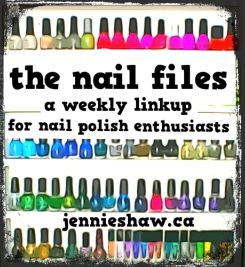 **Link up with us to show off your cute manis (either done by yourself or in a salon), nail polish purchases and/or recommendations, nail polish tips--whatever nail-related thing you'd like! And please use the button and/or link back to this blog. Thanks!**
***
What's a Meetup, you ask?
Well, it's a place for Julep enthusiasts to get together and chat about fun pretty polishes and cool beauty products, while sipping perfectly chilled wine and munching on yummy aps.
Okay, so that may not actually be an official description but it sure was my experience! Haha!
It was in the Lobby of the swank-tastic Thompson Hotel, where even the wallpaper was awesome, as it had a black and white faux bookcase pattern and cool, vintage lightbulb dangly chandeliers. There were two glossy white tables set up, one with Julep products and the other displaying a delightful assortment of drinks and snacks.
I had just gotten my bearings when Jane came up to introduce herself. She was so freaking nice and approachable that I just stood there and
stared stupidly
smiled. I'd hoped I'd get to meet her but it never even occurred to me that she'd make the first move. Not only that, but at one point, she was serving people drinks while doing a product demonstration for
Julep Bare Face Cleansing Oil
.
Yes, you read that right, guys and gals, the CEO of Julep was pouring wine and loving every minute. Like,
genuinely
. And talk about being passionate about products! She knew everything about everything, right off the top of her head. Plus, she was funny. Not only that, but she wanted to get feedback on which products Mavens loved, and things they wished Julep offered. There was even a box to leave suggestions. I've literally never felt like such a valued customer.
I know that right now, Jane kind of sounds like a robot because what CEO is genuinely happy to mingle with customers? (not any I've ever met) But I swear, she's real. Also? She wears marvellous accessories. And that says a lot about a person, in and of itself, doesn't it? No? Just for me then? Haha!
The other Julep rep was Jane's assistant, Lissa, and she was just as awesome! Enthusiastic, warm, and a seriously cool gal who just happens to be the inspiration behind one of my favourite Julep teals: the aptly-named, Lissa. When we were
bonding over having first names that people think are short form for something else
chatting, she mentioned the polish and it rang a bell because teals are kind of my jam and, sure enough, when I got home, I found that
I did a mani with it a few months ago
. Haha!
Anyway, between the spread of products, drinks, and snacks, and the two fantastic hosts, it was a super fun couple of hours. Jane and Lissa truly made an enormous effort to make sure everyone was comfortable, and also explain which products they'd brought for us to try. We got previews for November's colours, as well as the holiday collection which is
to die
. Seriously, people. See that glitter on the far right hand side of the six polishes up there? Its name is Tara and it almost killed me with its beauty.
This picture doesn't come close to doing it justice, but it was the best one I had.
When that collection comes out, I'm going to be all over it...and then it's going to be all over my nails because,
ohemgeeitssofreakingpretty.
Also, because this was a Julep event, I did a special Julep mani, featuring the two colours from my September box, as well as a blue I already had.
So in sum, the Meetup was pretty much the best way to end my Super Fun Friday. It was delightful to connect with other Mavens, and a serious treat to see all the new glitters while hanging with fellow nail polish enthusiasts. If there's ever a Meetup in your area GO GO GO!! (Thanks so much, Jane and Lissa!)
At the end of the event, we each got to pick a polish out of a GIANT pink box, which is when things got a bit hairy, but when the pixie dust settled, there were a few left over. I asked permission, because I'm a geek like that, and I got the go ahead to choose some to give away on the nail files! So if you win, it'll almost be like you were at the Toronto Maven Meetup with me, only better because instead of one bottle, you'll get...
FOUR!!!
*launches glitter cannon*
So after you link up to show off your pretties, keep scrolling down to enter!
Hope you have an awesome weekend!
a Rafflecopter giveaway
FYI, this giveaway is open internationally, as long as you're aware that the polishes may take forever to arrive at destinations outside of North America. If you're cool with that, I'm cool with paying for the postage. :)