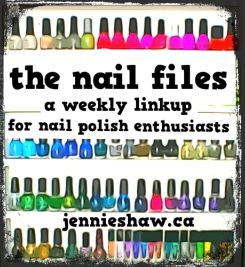 **Link up with us to show off your cute manis (either done by yourself or in a salon), nail polish purchases and/or recommendations, nail polish tips--whatever nail-related thing you'd like! And please use the button and/or link back to this blog. Thanks!**
***
This week, my mani didn't turn out quite as I envisioned. Ugh. I just hate when that happens, don't you? I mean, the end result was okay, but I'll probably end up trying the same design but with different colours.
C'est la vie
, right?
I started with two coats of Intelligence, Integrity & Courage and when that was dry, got out my painter's tape and started cutting strips. I placed them along the top of each nail (or bottom, in the case of my middle finger), creating a triangle. I rubbed the edges of the tape with my finger a couple of times to get a good seal, and then added two coats of Pool Party.
After that was dry-ish, I peeled off the tape and then waited for it to dry, fully. The final touch was the white border, where I used standard Stripe Rite.
I think this mani's problem was putting the pink over the grey. I'd imagined a super bright pop of pink, but it ended up looking way more orangey-red. Not the worst, but still a booooo. Haha!!
Did you have better luck than me? What did your nails look like this week? Link up and show 'em off!