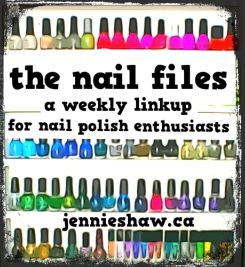 **Link up with us to show off your cute manis (either done by yourself or in a salon), nail polish purchases and/or recommendations, nail polish tips--whatever nail-related thing you'd like! And please use the button and/or link back to this blog. Thanks!**

***


I went shopping with my mum on Wednesday, and we stopped into Sally's to check out all of the holiday sparkles. And man oh man, are there ever some goodies this year! So, this week, I'm sharing a mani that was inspired by one of my latest purchases: the incredibly beautiful Explosion of Fun, which is from ORLY's Sparkle collection.
You don't really get a good enough look at
Explosion of Fun
in that pic, so here's a WAY better one. Haha!
*swoons*
Haha!
And here's what I did with it:
To start, I did two coats of Black Expressionism on my pinky, pointer, and thumb, and two coats of Billie Jean on my middle and ring finger. When that was dry, I got to work on the gradient. With a triangular makeup sponge and painted three stripes of polish: Billie Jean, Tart-y for the Party, and Charged Up. Then, I sponged on two coats. After that was dry, I painted a thick stripe of Explosion of Fun onto the sponge, and dabbed it on the bottom almost-half. A coat of quick-dry top coat sealed it all in.
About half an hour later (just to be sure the polish was TOTALLY dry) I put on the five pieces of striping tape, pressed down firmly, and painted over them with Black Expressionism. A minute later, I peeled them off and added the stud. And even though I waited an entire hour, when I applied a top coat, it smudged, which made me feel a bit like this...


Haha! Okay, I didn't actually cry. But I sure swore a lot!
Anyway, when it was all said and done, the black nails were a tad plain, so I added a dot of Billie Jean, followed by a dot of Explosion of Fun, and VOILA! The mani was complete. Haha!
Doesn't it look like...well...an explosion of fun coming out of the silver stud? Haha!
(Side note: that may not have been the best name. Just saying.)
So even though it totally smudged, I don't really care. The sparkles are to-freaking-die, and terribly hard to capture in a picture (I took no less than sixty, yes SIXTY, for this post). If, like me, you've been on the lookout for an amazing hot pink sparkle to add to your collection, you'll need to blow off work and get a bottle before they sell out.
Have you found any incredible holiday sparkles that I should know about? Who's seen the new OPI Gwen collection? Is it as marvellous as it seems online? And don't forget to link up with your manis/reviews, as well as swing by
Toria's blog for a Jamberry party
! Woot woot for parties!! Happy weekend, everyone!