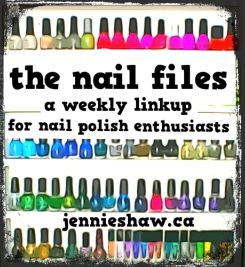 **Link up with us to show off your cute manis (either done by yourself or in a salon), nail polish purchases and/or recommendations, nail polish tips--whatever nail-related thing you'd like! And please use the button and/or link back to this blog. Thanks!**
***
It's been a seriously long time since I've done any animal prints, and since I couldn't decide, I opted to do two, yes TWO different ones. Because I'm crazy like that. Haha!
Cheetah:
I started with two coats of Rooney and when that was dry, got out a medium dotting too and made some blobs with Boundary of Memory. After that dried, I got out a smaller dotting tool, and surrounded each of the glitter blobs, with smaller, slightly curved blobs. Yes, in case you're wondering, blobs are where it's at. Haha!
Zebra:
After two coats of Paper Mache for a base, I got a long, skinny nail art brush and made the stripes with Black Expressionism. I find the Finger Paints polish is better than black Stripe Rite, because it goes on smoothly and doesn't need a second coat. To add some sparkle, I traced a few of the black lines with silver glitter Stripe Rite.
What were you rocking this week? Link up and show off! And I hope you have an awesome weekend!