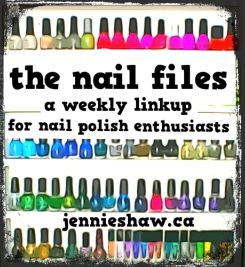 **Link up with us to show off your cute manis (either done by yourself or in a salon), nail polish purchases and/or recommendations, nail polish tips--whatever nail-related thing you'd like! And please use the button and/or link back to this blog. Thanks!**
***
So despite my countless prayers, winter has arrived early.
To make myself feel better about it, I decided to do a pretty, winter-y mani.
(Side Note: It didn't really work, but I totally get bonus points for trying. Haha!)
For the base, I did two coats of Man Hunt on all fingers, and let it dry completely. Then, it was gradient time. I used my standard technique of brushing the polish right onto a triangular makeup sponge, starting with a stripe of Black Expressionism at the bottom of the sponge, followed by a stripe of Man Hunt and then Paper Mache on top. The coverage was pretty good after one coat, but I did a second because I'm obsessive about blending. Haha!
When that was dry, I got a flat nail art brush and added a half-ish coat of
The Outer Edge
and then topped it all off with two coats of
There's Snow One Like You
, which I put on with a dotting tool because it's all chunky. Ha!
While outside
freezing my face off
to take a natural light picture, I was suddenly inspired by
Lulubelle
's nature-y nail pictures and...well...next thing I knew, I had taken about fifty outdoor pics in various spots around the yard. Haha!
These two are my faves from the bunch:
What did your nails look like this week? Link up to show them off! I hope everyone has an awesome weekend!