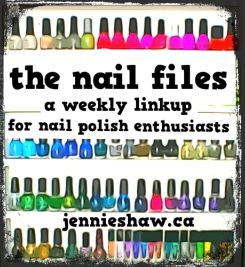 **Link up with us to show off your cute manis (either done by yourself or in a salon), nail polish purchases and/or recommendations, nail polish tips--whatever nail-related thing you'd like! And please use the button and/or link back to this blog. Thanks!**
***
Oh em gee, guys! This is the last nail files before Christmas!! YAY FOR THE HOLIDAYS!



Our final pre-actual-Christmas holiday party was with The Remix's company, in a fancy hotel, so I figured I do some simple, classy nails for the event.
Psych!
Haha! Remember psych? Psych was the best.
Anyway, the outfit I wore consisted of a black sheath dress, silver sequin shrug, and a long, VERY sparkly necklace. I decided that I wanted my nails to have the same kind of vibe, so I went with a pretty monochromatic colour scheme of black and silver.
So I realized I'm actually missing a ton few things in this picture (*headdesk*). Please use your imagination to also picture a medium dotting tool, silver sparkle Stripe Rite, black rhinestones, and some matte top coat. Ugh. Why is my brain so fried?! Haha!
Each finger got two coats of Cleopatra or Rebel, which I let dry completely. For my pointer finger, I added two coats of Kirby, and on my pinky, one coat of Kirby, almost hallway up the nail.
Using tweezers, I picked out a larger rhinestone, dipped it in some quick-dry top coat, and then put it on my middle finger. I used the same technique for the smaller rhinestone.
For my thumb, I used a thin nail art brush and Rebel to draw on the snowflake, and a medium dotting tool for the dots. For some extra pizazz, I went over the snowflake with silver sparkle Stripe Rite.
For my ring finger, I used the same thin nail art brush and Cleopatra for the two smaller snowflakes, as well as the dots. Then I added two small black rhinestones to the middle of each snowflake, because more bling is always better. Haha!
Cleopatra
has a really cool finish that got super shiny with top coat, which made me wonder what it would like with matte top coat, so I added it to the non-glitter portion of my pinky. If you look closely, my middle finger is the shiniest, with top coat, my thumb has no top coat and is a cool velvet-y kind of finish, and the pinky is matte. Talk about three separate looks! Nicely done on that one, Julep!
So yeah, I think this mani is super freaking cool. It borders on being too much but the monochromatic colour scheme reigns it in a bit. Okay, maybe it's still a bit too much but I don't really care. Haha! And
unlike the silver studs from last week's mani
, these gems lasted six whole days.
*looks at fingers on keyboard*
In fact, all eight of them (four per hand) are still very firmly placed. I don't know why they lasted so much longer, but it's made me want to use them more often, so look out, manis of 2015, because it's going to all rhinestones, all the time! Haha!
Hope you all have a very happy holiday!!!