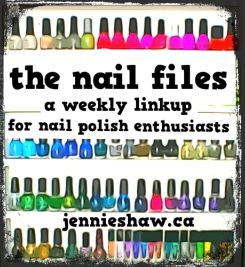 **Link up with us to show off your cute manis (either done by yourself or in a salon), nail polish purchases and/or recommendations, nail polish tips--whatever nail-related thing you'd like! And please use the button and/or link back to this blog. Thanks!**
***
Every once in a while, there's a mani that makes me think: How in the heck did I manage to do that?
This week's mani is one of those. Even choosing which photos to share was agony because I can't handle the prettiness! Haha!
It started when I was trying to think up a non-traditional holiday manicure while also wanting to use some of the new polishes I've gotten lately. Purple, white, black, and gold may not seem holiday-ish, at first, but I think that it works. Then again, I'm biased. ;)
This gold polish, guys. THIS GOLD POLISH. It has such a soft finish, making the name
Rollin' In Cashmere
even more appropriate. Be warned, though, that this polish streaks like a
motha
. After several failed attempts at even coverage with two coats, I learned that the brush needs a good amount of polish on it
at all times
. No 'finishing' strokes with this one, folks! It'll just create a big polish-less line on your nail. So load up that brush!
Because I love this mani so much, I decided to do a photo tutorial (mostly so I could remember how I did it. Haha!).
Step 1: Two coats of Paper Mache, totally dry.
Step 2: Add three big ole dots of Millie. (Don't freak if your dots aren't perfectly circular, because the edges will get covered up later.)
Step 3: With a thin nail art brush, make a u-shaped line in the centre with Tart-y For The Party, and then add a few more curved lines for petals.
Step 4: With Black Stripe Rite, add the stems and leaf outlines.
Step 5: With the same thin nail art brush as in Step 3, fill in the leaves with Rollin' in Cashmere, followed by De-Light.
One coat of top coat seals it all in.
Yay for fun, sparkly, untraditional holiday manicures! Haha!
And, for a small, non-nail-related plug, thanks to your votes in the semi-final rounds, I've somehow made it into the FINALS for Karen's World Blog Awards, for the Pee-In-Your-Pants Funny Blog!! With a name like that, how can I NOT want to win, right? So if you could, I'd really appreciate your vote (possibly for a second time)!
Click here for a post that lists what I think are my most recent, funniest posts
. If you agree that I'm hilarious (haha) then I'd LOVE if you'd
vote for me
!
Okay, so I'll love you even if you don't vote, but still, please do it. Haha!
And don't forget to link up your manis for this week! I'm excited for a month's worth of holiday manis! YAY FOR HOLIDAY MANIS!
Have an awesome weekend, everyone!