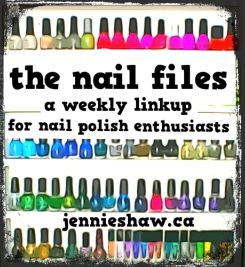 **Link up with us to show off your cute manis (either done by yourself or in a salon), nail polish purchases and/or recommendations, nail polish tips--whatever nail-related thing you'd like! And please use the button and/or link back to this blog. Thanks!**
***
Despite the fact that Christmas felt like three days ago, January is just about over. But it's not all bad because the end of January means that Valentine's Day is coming, which is a great opportunity for a couple of theme manis! And you all know how I feel about theme manis, right?
Haha! Oh, Kenya, you're a total nut bag and I love ya for it.
So this week, I played around with a couple of new ORLY glitters I got on sale, including the hottest holo of the season: Mirrorball. (And YES, you read that right, I found a bottle of the elusive Mirrorball on sale!! EEEE!)
After two coats of
Paper Mache
were dry, I got out a large dotting tool and made three hearts on my ring finger, along with the larger one on my pointer finger, using
La Vida Loca
. I was nervous about doing the big one, because symmetry is hard (haha), but I was too impatient to use
Joey's technique of making your own decals
. Luckily, this time, it worked out. *wipes brow*
When that was dry, I added two coats Explosion of Fun to the three smaller hearts and Glitterbomb to the larger one. And can we just stop for a second to talk about Glitterbomb? It's, quite literally, the bomb, guys and gals. Sooooo much sparkle in this one, which obviously explains why I'm so obsessed with it. Haha!
Originally, I'd planned on leaving my white nails plain, but then I realized that was a ridiculous idea considering I hadn't used Mirrorball yet. So, I used a medium dotting tool for my thumb, middle, and pinky finger, and then used a smaller dotting tool to dot around the hearts.
Like I've said before, when the light hits these glitters, it's like HOLY SPARKLEPANTS, and the crisp white background makes them pop out even more. I love these polishes, people. Looooooooooooove them. It's going to be really hard to hoard them use them sparingly. Haha!
So what are you rocking this week? Are you already in the Vday spirit? Link up and show off!
Hope everyone has a fantastic weekend!