First book review of 2015! Woot woot!! Haha! And man oh man, do I ever have a good one to share.
I've included the Goodreads synopsis, because there's a lot going on and it sums everything up quite nicely. Take a read and then keep scrolling for my review.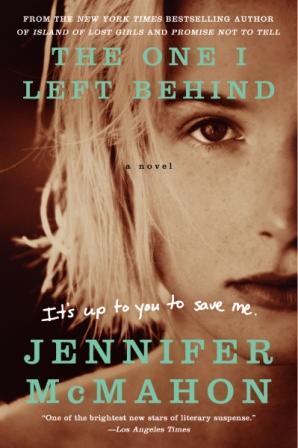 Bestselling author Jennifer McMahon is back with a gut-wrenching mystery about an architect whose troubled mother has been found 25 years after being kidnapped-by a killer who is still on the loose.
The summer of 1985 changed Reggie's life. Thirteen, awkward, and without a father, she finds herself mixed up with her school's outcasts-Charlie, the local detective's son, and Tara, a goth kid who has a mental hold over Reggie and harbors a dark secret. That same summer a serial killer called Neptune begins kidnapping women. He leaves their severed hands on the police department steps and, five days later, displays their bodies around town. Just when Reggie needs her mother Vera-an ex-model with many "boyfriends" and a thirst for gin-the most, Vera's hand is found on the steps. But after five days, there's no body and Neptune disappears.
Now a successful architect who left her hometown behind after that horrific summer, Reggie doesn't trust anyone and lives with few attachments. But when she gets a call from a homeless shelter saying that her mother has been found alive, Reggie must confront the ghosts of her past and find Neptune before he kills again.
With her signature style, Jennifer McMahon portrays the dark side of adolescent friendship and introduces characters who haunt the imagination, along with a disturbing web of secrets, betrayals, and murder.
Holy guacamole, guys. This book was incredible. In-cred-i-ble.
I started it about half-an-hour before I had to go to bed, and before I knew it, hours had passed. Soon, my eyes demanded sleep but the second they opened up the next morning, slightly crusty (tmi? Haha), I got right back to it, even bringing my Kindle into the car
so I could
be a horrible and silent passenger
finish on the way to a birthday party.
Also? I'm honestly not exaggerating. Whenever I had a free moment, I read until something forced me to put it down. Curse this adult life filled with responsibilities that eat up my reading time! Haha!
The plot was extraordinarily windy and twisty, and it made me feel anxious, worried, and above all, curious--the very best combination for a thriller, in my humble opinion. And served up alongside the unpredictable plot was unbelievably deep character development, which is another must-have for an edge-of-your-seat thriller.
They're layered like onions, guys and gals—just like real people (who probably should start attending regular counseling sessions with a trained professional, but whatever, I don't judge, haha!). But even though nobody's really "innocent" in THE ONE I LEFT BEHIND the characters' vulnerabilities and flaws drew me in, making me care very deeply about their journeys, not matter how messed up the journeys happened to be.
So yeah. If you're into thrillers, suspense, and/or mystery, you're going to want to pick this one up. Like, soon. Probably today, even. And then clear your schedule so you can read it in one sitting.