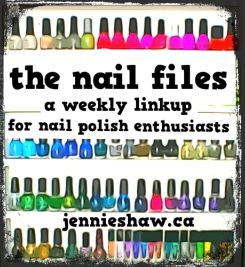 **Link up with us to show off your cute manis (either done by yourself or in a salon), nail polish purchases and/or recommendations, nail polish tips--whatever nail-related thing you'd like! And please use the button and/or link back to this blog. Thanks!**
***
Happy New Year, fellow nail polish enthusiasts!!
Hard to believe that we've moseyed on into 2015, eh? I hope that 2015 slows down a bit because it feels like 2014 went by in a flash. Also? I'm REALLY SORRY about not posting a nail files last week. I woke up on Boxing Day and was all: I feel like I forgot to do something...HOLYFACENUTS I FORGOT TO POST THE NAIL FILES.
Seeing as I had no reserve manis to share, and I was slightly hungover from all the wine turkey, by the time I remembered that I forgot (ha), it was way too late. Again, I'm so sorry about the flake. If you had a post from last week, please link up both this week!!
And speaking of this week, figured that I'd do a little round-up of my favourite manis from 2014, but they're in no particular order, because it was hard enough picking from 52 + manis in the first place. It blows my mind when I see how much better I've gotten at nail art (and at taking pictures of my nails). When I was scrolling through the pics from this year, I kind of impressed myself, which is totally weird and slightly narcissistic, but it happened and I'm owing it. Haha!
So now, on with the nails!
*bangs gong*
(If you want the step-by-step, and names of polish used, click on the picture and it'll take you to the post. Except for a couple, which blogger REFUSED to link, so I have the hard link below the title that you'll have to cut and paste. Sorry!! Blogger really stinks sometimes.)
Surprise!
Flower Power
Rhinestones + Neon = Love!
Making a Move at the Gavin DeGraw Concert
Glamorous Ghosts
I Love Me Some Wrap...ping Paper
Shark Attack
Peek a BOO
Holiday Rose Tutorial
Pop the Champagne!
Party Penguins
Pink 'n Green
http://www.jennieshaw.ca/2014/09/the-nail-files-pink-n-green.html
Snowy Tips
http://www.jennieshaw.ca/2014/11/the-nail-files-snowy-tips.html
Here's to a wonderful, fun-filled 2015!! I can't wait to see all the wonderful manis you'll be doing!