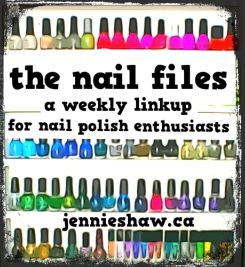 **Link up with us to show off your cute manis (either done by yourself or in a salon), nail polish purchases and/or recommendations, nail polish tips--whatever nail-related thing you'd like! And please use the button and/or link back to this blog. Thanks!**
***
At first, I wasn't totally sure how I was going to use all of these colours at once, so I perused Pinterest for a while until I stumbled upon a great many plaid manis. Now, straight, freehand lines aren't totally my bag, but I decided to risk it all and give it a go. High stakes in nail art is a real thing, guys. Haha!
(inside, with flash)
When the base coats of
Shelly
and
Billie Jean
were dry, I got out my narrowest flat nail art brush and started with two, wide vertical lines. I chose
Rooney
for the base lines because it's a translucent polish, so I didn't think it would be
that
dark. Naturally, it was impossible to get those lines straight, on account of my curved nail beds, but I'd come too far to stop, so I kept going. Haha!
(inside, no flash)
After Rooney was dry, I chose a long, thin nail art brush and used Shelly to make thin lines in the middle of the thick Rooney one. Still following? Good. Haha! After that, I used Felicity for the overlapping thin lines that were centred in what was left of the exposed Billie Jean. Then, I topped it off with glitter from Chantel, leaving out the diamonds.
(inside, with flash)
I'm not completely happy with how they turned out, because I prefer crisp lines, but taping everything off would have taken forever. For my first time doing so many lines, it's not too bad, I guess. If I were to do it again, I'd use a much lighter pink underneath, because the brown pretty much covered it and the exposed sections weren't bright enough. Still, I like the look of the plaid, so it's a design that I'll definitely try again.
What were you rocking this week? Did you find inspiration somewhere unexpected? Link up and show off!