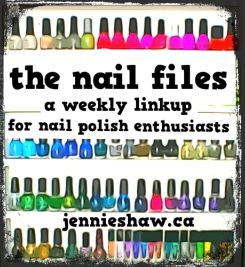 **Link up with us to show off your cute manis (either done by yourself or in a salon), nail polish purchases and/or recommendations, nail polish tips--whatever nail-related thing you'd like! And please use the button and/or link back to this blog. Thanks!**
***
This week was a fun one for me, albeit slightly unproductive on the writing front. But we all need a break sometimes, right? That said, within the madness, I found time to do my nails. Because, of course. Haha!
For base coats, I did two coats of Paper Mache, Rollin' in Cashmere, and Gilded Chrome. When that was dry, I got a large dotting tool and added three dots of Gilded Chrome to my pointer finger.
I'm sad to say that this will be my last mani with
Gilded Chrome
, as the sparkles have all clumped together to such a degree that it was a nightmare to apply. I added some thinner, which made it sort of better, but I think it's time to just accept the demise of this beautiful, sparkly polish. Should we have a moment of silence and bow our heads? Haha!
Hope you all have an awesome weekend, and here's hoping for a productive next week. Or, at least somewhat productive. Overachiever, I am not. Haha!