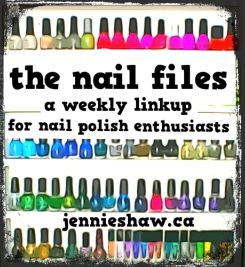 **Link up with us to show off your cute manis (either done by yourself or in a salon), nail polish purchases and/or recommendations, nail polish tips--whatever nail-related thing you'd like! And please use the button and/or link back to this blog. Thanks!**
***
I've been seeing pops of bright, springtime colours lately and although there's still massive amounts of snow outside, I decided to join in on the fun.
Related: Pleeeeeeeeeeeeeease let it be over soon. Haha!
What I used:
The mani!
Each finger got two coats of either Oxygen or I Vant to be A-Lone Star and then, when dry, I added a hot pink triangle along the base of my nail, finishing off the look with a hot pink round stud.
Yup, this was a super easy and simple mani, but man, does that hot pink ever make it cute!
Sometimes, studs really are the easiest way to add some pizazz. If, for no other reason, the studs are automatically symmetrical. Haha!
Hope you all have an awesome weekend! And don't forget to link up and show off your pretties!