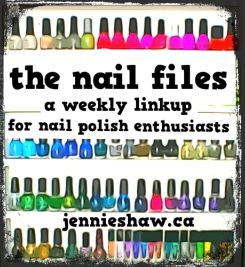 **Link up with us to show off your cute manis (either done by yourself or in a salon), nail polish purchases and/or recommendations, nail polish tips--whatever nail-related thing you'd like! And please use the button and/or link back to this blog. Thanks!**
***
A couple of weeks ago, I saw a picture of a glitter gradient...and nearly died because it was so pretty. (If you know me at all, you know that this is an honest statement. Haha!) I'd seen comments on a few Pinterest posts, saying that it's possible to get great glitter coverage in two coats, if you use a sponge. Well, those two things came together for this mani, as I decided to try the technique for my very first glitter gradient.
Spoiler alert: IT WORKED SO FREAKING WELL!!
See how pretty?!?! I can hardly stand it!!
*sighs happily*
And best of all, it really wasn't that hard! Just like the comments suggested, I did two coats of glitter, applied with a sponge, and got full coverage. FULL COVERAGE, people. Whyyyyyy haven't I used a sponge to apply glitter before?!? # whinyrhetoricalquestion
To prove it to you, I took pictures as I went. Not that I thought you'd call me a liar, but it's good to cover my bases. Haha!
As you can see from the step-by-step, it literally took two coats. And it'd be even easier if you aren't allergic to latex, because then you could use
that nifty stuff that's been all the rage, as of late
. But, if you're allergic, like me, then plain old scotch tape works well. I'd recommend doing two swipes of each glitter on the sponge before applying.
Here's a pic in non-direct light, inside. which really shows the depth of the gradient.
This pic was taken inside my light box, with studio lights on either side.
I honestly can't get over how pretty this mani is. No matter what the light, it really shines. And in direct sunlight, I practically have to wear sunglasses. As many pictures as I took, though, none of them really captured the shine, which is saying something because I took about a million. Haha!
The rest of the mani was easy-peasy, with two thin coats of
Push and Shove
(overtop the special base coat), and two coats of
Black Expressionism.
To round it out, I added three gemstones, in the same colours I used for the gradient (silver/white, light pink, and dark pink).
Even though there aren't any hearts on this mani, I think it's absolute a Vday mani. I mean, sparkles, pinks, and gemstones scream Valentine's-Day-y, don't they? (Say yes, please. Haha!)
I had a lot of fun playing around with a few different Vday nail styles, but this was absolutely my favourite.
So what are your plans for Love Day? My favourite Vday memory is from when some friends and I arranged a Vday pub crawl for singles called: Looking for love in all the wrong places. Haha! Man, were those super fun. Whatever you end up doing, I hope you have an awesome time! And don't forget to link up! :)