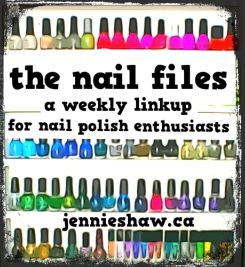 **Link up with us to show off your cute manis (either done by yourself or in a salon), nail polish purchases and/or recommendations, nail polish tips--whatever nail-related thing you'd like! And please use the button and/or link back to this blog. Thanks!**
***
Can you believe it's almost Easter? Holy moly, is this year going quickly. Now if only it would stop freaking snowing...
Anyway, with Easter around the corner, I wanted to try a non-nail-art-but-still-festive mani. Mostly because I was a bit lazy, this week. Err...I mean, busy. Haha!
Indoor light. Weirdly, the pink glitter bits looks more red here.
To start, I did two coats of
Paper Mache, Boho Blues,
and
Highlight of my Summer.
When that was dry, I used a flat nail art brush to scoop up glitter bits from
I'm a Go Glitter
, clustering around the base of my nail. Then, I picked out the smaller, bright pink pieces, and placed them randomly on the rest of each feature nail.
I think the glitter looks a little bit like flowers, which make this mani both spring-y AND Easter-y. #nailedit
Outdoor light. Please forgive my blurry pointer finger. I don't know what happened there. Haha!
I have to say that I was pretty surprised with how Boho Blues went on. The first coat was sooooo thin, and super streaky. I was positive that it would need three coats, which drives me absolutely batty. But, I was delighted to see that after a second coat, it was totally opaque! I'm not saying it's magic, but it's pretty darn close because every other streaky polish I have requires three coats. So if you picked up Boho Blues from the Road Trip collection, don't freak out the first time you use it. I promise that you'll only need two coats.
You're welcome. Haha!
What did your nails look like, this week? Do you have some Easter nail art going on? Link up and show off! :)