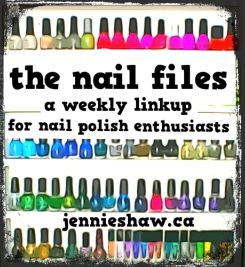 **Link up with us to show off your cute manis (either done by yourself or in a salon), nail polish purchases and/or recommendations, nail polish tips--whatever nail-related thing you'd like! And please use the button and/or link back to this blog. Thanks!**
***
Last week, I finally got my butt to a Sally's, and because I'm the luckiest gal in the world, there were still a few bottles left from ORLY's latest release: Sugar High. As I'm a fan of pretty pinks and sweet neons, I picked up
Cake Pop
and
Key Lime Twist
(which at first looks an awful lot like China Glaze's
Celtic Sun
, but trust me, it's not).
Indoor light.
This mani was pretty easy, with two coats of
Cake Pop
and
Key Lime Twist
to start. When that was totally, and I mean
totally
dry, I applied french tip stickers, and then did two quick coats of
Key Lime Twist
. Before the tips could dry, I carefully removed the stickers.
I added the oval rhinestone, and then let everything dry for about ten minutes, finishing with a coat of quick-dry top coat.
Outdoor light.
The day after I did this mani, The Remix and I went out for supper, which is when I realized that I'd inadvertently matched my nails to my favourite Kate Spade bag. I guess I like what I like, eh? Haha!
I don't know if ORLY changed their formula for the Sugar High collection, but I got incredible wear out of this mani. On day seven, yes DAY SEVEN, I got my first chip. Even the rhinestones managed to stick around (with the help of proper rhinestone "glue"). So if you're into pastel pinks or awesome neons, you may want to pick up a bottle or two before ORLY's Sugar High collection sells out. The colours went on really smoothly, and seemed to last forever. Yay for long-lasting polishes! Haha!
What are you rocking this week? Link up and show off!
Hope you have an awesome weekend!