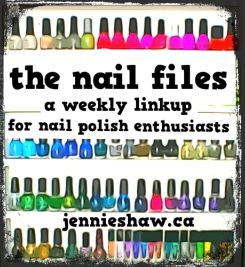 **Link up with us to show off your cute manis (either done by yourself or in a salon), nail polish purchases and/or recommendations, nail polish tips--whatever nail-related thing you'd like! And please use the button and/or link back to this blog. Thanks!**
***
Despite Punxsutawney Phil proudly declaring we'd have an early Spring, there has yet to be a day where it's been above freezing. Also? There's still snow, like, everywhere. Mass amounts of snow, actually. And I'm over it, guys.
Over. It.
So, in an attempt to feel more spring-like, I'm decided to do a mani with my favourite spring flower: the peony.
I used an angled nail art brush to dab on either Michelle or Carla for the flowers. When that was dry, I used white Rite Stripe or Shelly for the petals, starting on the outside, and working inwards. Then, I fished out bits of hex glitter from one of my all-time favourites, Paris, for the centres. The last step was adding some random dots around the flowers, with Erin.
But even though I let this nail art dry forever, my middle finger STILL smudged, which made me feel a lot like this:
Coincidentally, this is also how I feel when I look outside. Haha!
I don't know why my middle finger smudged, because it has the exact same combination of polishes I used on my other nails, but it happened. And it sucked. Badly.
Ughhhhhhhh. Smudged nail art really is the pits.
Even though my middle finger was ruined didn't turn out great, I still really dig this mani. I thought it'd be fun to do just the one finger differently, and I love how it looks. With the right colours, I think this design could totally be vintage wallpaper-y, but even as it stands, I think it's super pretty.
What were you rocking this week?