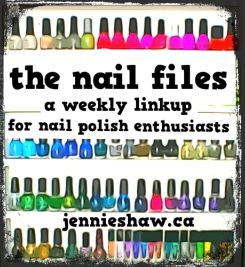 **Link up with us to show off your cute manis (either done by yourself or in a salon), nail polish purchases and/or recommendations, nail polish tips--whatever nail-related thing you'd like! And please use the button and/or link back to this blog. Thanks!**
***
Woot woot! It's Friday! YAY FRIDAY!!
Since St. Patrick's Day is right around the corner, I figured I'd better get on a theme mani. A few weeks ago, I tried my hand at plaid, and figured this was a good a time as any to give it another go.
The polish:
The tools:
Indoor light.
Plaid: When the base coat of Paper Mache was dry (two coats), I got out the narrow, flat brush and used Mackenzie to make the off-centre cross. When that was dry, I used the gold Stripe Rite to make the thin line. I let that dry for a while, and then used a long striping brush, along with Payton, for the final off-centre cross, in the lower portion of my nail.
Argyll: When the base coat of Paper Mache was dry (also two coats), I used Payton and the same long striping brush to make an "X" from the bottom corner, to the top. I switched to the narrow, flat brush to fill in the upper and lower triangles. The nail art brushes don't hold polish as well as brushes that come with bottles, so I did two coats for better coverage. When that was dry, I used a large dotting tool to make hearts, using the corners of the triangles as boundaries. After I'd done all four hearts, I used the dotting tool to blend them together, hiding the spots where they didn't quite connect. Then, I got out the gold Stripe Rite to create the accent lines. I thought the clover needed more definition, so I used the long striping brush and a little bit of Mackenzie to add petal lines.
Outdoor light.
I'm getting better at straight, freehand lines, so I'm happy to report that practice makes perfect. Or, almost perfect, as there's still some wavering. Haha! Still, it's a definite improvement. And using a narrower flat brush for the plaid worked really well. For the size of my nails, this is the width I'll use in the future. I love having plaid and argyll in the same mani, and the gradient nails make for a nice background, without being boring. All in all, I think this mani's pretty cute!
Are you rocking St. Patrick's Day nails? Link up and show off what you've been wearing! And don't forget to have the best weekend ever! :)