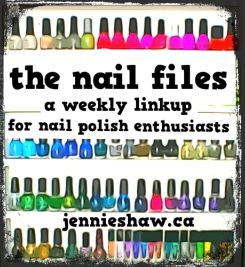 **Link up with us to show off your cute manis (either done by yourself or in a salon), nail polish purchases and/or recommendations, nail polish tips--whatever nail-related thing you'd like! And please use the button and/or link back to this blog. Thanks!**
***
Earlier this week, I suffered an immense tragedy. Not only did I break one nail, but
two
. And on my left hand, no less (which my pal
Marisa
refers to as "the trophy hand" Haha!). So, with nothing left but little nubs on my middle and ring fingers, I was a sad sack.
But then I spotted my loose holo diamonds, courtesy of
a super sweet friend
, and instantly, I felt better. Because glitter can make any situation better. It's, like, science. Haha! Deciding just what to do with the diamonds took some thought, but then I came up with a super fun idea that used one of my current obsessions
Plur-ple
, from the China Glaze Electric Nights Collection.
I started with two coats of Plur-ple and At Vase Value and then added a coat of quick-dry top coat. After about half an hour, I got started on the flowers. (From previous experience, trying to position studs on not-quite-dry polish can make dents.)
First, I laid out the "petals" without using any polish, to make sure they'd fit. Once they were even, I brushed them off to add some bonding polish (the same I used when applying studs) using a very small dotting tool. Then, I used tweezers to apply the diamonds, pushing down with my finger to make sure they were secure. I repeated the technique until all the diamonds were stuck, finishing off with a few dots of At Vase Value, for the middle of the flowers, and to fill in the rest of the nail. When that was dry, I added two more coats of top coat, to seal the edges of each diamond.
Trying to get a good picture of this mani took forever, and they're still a little soft. But that's because my lens couldn't focus on the ridiculous shine. I can't even handle how much I love this mani. It's basically everything I look for: bright, vibrant colours and a ton of sparkle. Haha!
This was my first time working with loose glitter and I've fallen in love. Usually, I pick out pieces from bottles of polish, but that means I have to be exact with placement, or it gets all goopy. With loose pieces, though, the sky's the limit! YAY FOR LOOSE GLITTER! Haha!
Did you have bright and shiny nails this week? Link up and show 'em off!
Have an awesomely fantastic weekend!