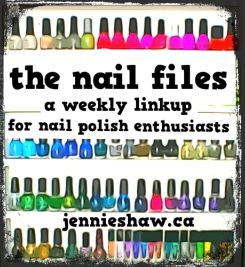 **Link up with us to show off your cute manis (either done by yourself or in a salon), nail polish purchases and/or recommendations, nail polish tips--whatever nail-related thing you'd like! And please use the button and/or link back to this blog. Thanks!**
***
Woot woot! We made it, guys and gals--it's finally the Easter long weekend!


I was feeling uninspired this week, as I stared at my ample collection of pastel colours, wondering what the heck I was going to do. Luckily, that's when I remembered Pinterest. Haha! I found this mani (
by IG nail artist, Paula - @just1nail
), and fell in love with the idea of doing a dotted background, with a little peek-a-boo bunny in the corner. So...well...that's what I did. Haha!
Polish Used:
And the mani!
For the dotted fingers, I started with two coats of At Vase Value, and then added either Bea or Cake Pop, using a medium dotting tool. To make sure my dots were even, I started with the middle three dots, and then worked my way out.
The glitter finger has one coat of At Vase Value (which was streaky, but okay because I knew I'd cover it with sparkles), followed by two coats of Ho Ho Happy Holidays. When that was dry, I used a large dotting tool for the big Cake Pop dot.
The bunny was slightly more complicated, but I've found that instead of just jumping right in (ha) and free-handing a design, it's better to outline it first. And using Rite Stripe lets me start over if I mess up (as a quick swipe of acetone takes it right off). After outlining the bunny head and ears, I filled it in, using a thin nail art brush and proper white polish, Paper Mache. I used the same, thin nail art brush, for the middle of the ears, with Dance Baby, as well as the nose (which I forgot to do upside down, so my bunny nose looks a little cat-ish. Whoops! Haha!). The eyes were a real bey-otch, but I prefer the look you get with a black outline, white middle, and black pupil, so I used the same medium dotting tool to first make the black dot, with Black Expressionism. I let that dry for a bit, so the next dot wouldn't bleed too badly, and then added the white middle with Paper Mache. Finally, I used my smallest dotting tool for the pupil. To get the thinnest whiskers possible, I used Black Rite Stripe.
I'm so happy that I have a super-cute Easter mani for this weekend. Thanks for the inspiration, Pinterest! Haha!
Do you have big plans this weekend, aside from shoving your face with ham and mashed potatoes, along with mass amounts of chocolate eggs, to the point that even your fat pants don't fit? Cause that's what I'll be doing! Haha! Whatever you wind up doing, I hope you have an awesome time! And don't forget to link up your nails! :D