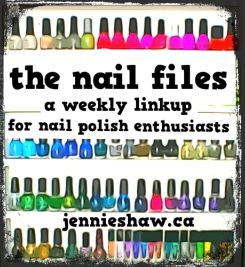 **Link up with us to show off your cute manis (either done by yourself or in a salon), nail polish purchases and/or recommendations, nail polish tips--whatever nail-related thing you'd like! And please use the button and/or link back to this blog. Thanks!**
***
At the beginning of last week, I was tagged on IG for #mynailsandmydrink.
I'd just painted my nails, using Julep's
Shelly
and
Monaco
, but wasn't sure how I'd jazz them up. I threw out a few options and then Daniele (aka
@dkbg
) decided for me--neon studs!
As it's spring--FINALLY--I decided to make a neon flower. After waiting for the studs to set (about ten minutes), I did two coats of top coat, to seal them.

Easy peasy, lemon squeezy (Mmmm...margaritas. Haha!).
Shelly is just the nicest light minty-blue. I love it so much. And Monaco has such a creamy depth to it. Gah! They're just so pretty! Haha!

What were you rocking this week? Link up and show off!

And make sure to have the best weekend ever! :D