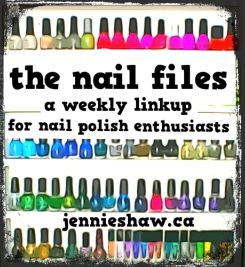 **Link up with us to show off your cute manis (either done by yourself or in a salon), nail polish purchases and/or recommendations, nail polish tips--whatever nail-related thing you'd like! And please use the button and/or link back to this blog. Thanks!**
***
A few months back, I saw a mani idea on
@misspopnail's IG account
, and this week, I decided to give it a try.
I fell in love with the one in the bottom, left. Although, now that I'm looking at this picture again, I'm digging the bottom right...and the top left. Okay, so I may do more manis based on this picture. Haha!
I used wide strips, usually reserved for French manis, and put them on two nails, vertically. Then I did two coats of Bizarre Blurple on all fingers. Before the polish could fully dry, I removed the stickers.
For some added fun, I added the neon studs. Because neon studs are awesome and pretty much make everything better. Just like glitter. Haha! I finished the mani with a coat of
HK Girl Glisten and Glow
quick-dry top coat.

Negative space manis are so freaking fun. I remember when I used to be a hater of this trend. Oh how wrong I was!! Neon yellow and deep purple are such a pretty combo. Perfect for winter-to-spring manis. And the Glisten and Glow topcoat worked great at keeping the studs looking fresh.



What are you rocking this week?
Hope you have an awesome weekend!