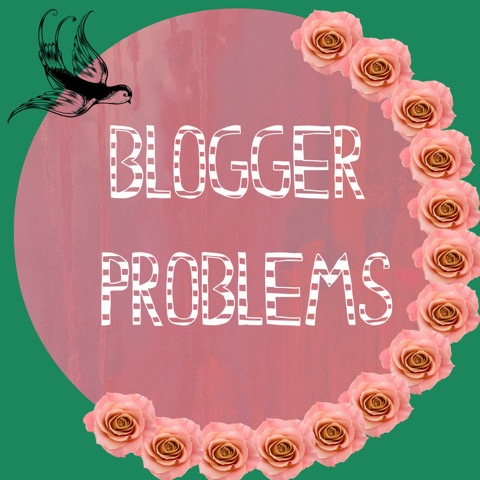 Similar to First World Problems...
and Toddler Problems...
Blogger Problems are problems that other bloggers can sympathize with (as they wouldn't necessarily seem like actual problems to others). And while I don't have a lot of Blogger Problems to share, a few did come to mind.
1. For nail posts, I have to take about five kajillion pictures before I can get a usable one. Flash spots wash out nail art designs, getting a close-up with each finger in focus is nearly impossible, bad lighting can distort colours, and if I don't take pictures at between 11am and noon, my skin can look kind of orange. The worst, though, is when I think I've finally nailed it (ha) only to go into my editing program and see spots of nail polish on my skin and cuticles that didn't get cleaned off.
2. I read a lot, because reading is the freaking best, but over the last few years, I've decided to only review books that I L-O-V-E, in order to keep things positive. Naturally, this means that there are times where I'll go for long spells without posting reviews, because just liking a book isn't enough for me--I want to shout my love from the rooftops! So when an author gives me a copy of their book, hoping for a fantastic review, I hate when I have to send them a note, saying that I won't be reviewing their work. It breaks my heart every single time because the truth is, I want to love it, but sometimes it just doesn't resonate and then I have to eat copious amounts of cheeseburgers to feel better while simultaneously fearing an angry response to my pass.
3. When I first started blogging, I had zero readership and it gave me the opportunity to have a diary-like blog. If I was upset about something, I could write a post and let out my feelings. Now, though, my readership is pretty solid (yay! And thank you!) but a lot of my real-life friends and family read too, so I'm constantly worried about hurting people's feelings. I wish I didn't care so much--that I could be one of those bloggers who puts everything out there--but even with quotes like this one, from the über talented Anne Lamott...
I still find myself thinking long and hard about posting certain thoughts. Because although I'm completely entitled to my opinion, the internet is forever (as are certain relationships) so I almost always end up keeping those thoughts to myself. Even when it's really (really, really, really, really, really) hard.