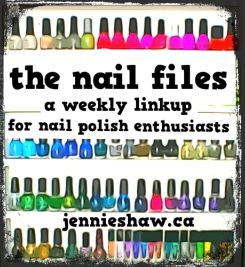 **Link up with us to show off your cute manis (either done by yourself or in a salon), nail polish purchases and/or recommendations, nail polish tips--whatever nail-related thing you'd like! And please use the button and/or link back to this blog. Thanks!**
***
One of my new favourite IG accounts to stalk is
I Scream Nails
. They're a nail bar in Australia, and pretty much the coolest place ever. Their designs are bright, cartoon-y, and super mega fun, which is why I'm sure you're not surprised with my obsession. Haha!
Last week, I saw the cutest little flamingo, and since I literally live on the other side of the globe and therefore can't make an appointment, I decided to give it a try, myself.
So cute, right? I mean, it's pretty much ALL the cute.
Ugh. How I wish I lived in Australia...
Anyway, instead of blatantly ripping off the whole mani (haha) I added my own twist...
Haha! Those legs! I love how it all came together.
To ease into the design, I started with the clouds (which were also from the
I Scream Nails account
, but on a different mani), after two coats of
UV Meant To Be
that had dried completely. Surprisingly, they were pretty easy to do. I used two differently-sized dotting tools to make one larger and one smaller cloud per nail.
For the flamingo, I used a thin, narrow nail art brush and Escaping Reality to outline the flamingo. First, I drew a semi-circle for the body, and then curved upwards in a "S" shape, for the neck and head. Using that as a guide, I thickened his face/neck, and filled in the other colours. For the beak, I used Black Rite Stripe.
For the bottom of the flamingo, I did a similar outlining technique, starting with the body, and then adding the legs. When I'd finished, I thought the bottom nail looked a bit empty, so I added the grass.
I seriously
cannot even handle
how cute he turned out. I've longed for an
I Scream Nails
flamingo and although I had to do it myself, I'm so happy I did. And the clouds are freaking adorable. I've gotten more compliments on this mani than I know what to do with.
I couldn't resist this last shot--nail art clouds with real ones! Haha!
What were you rocking this week? And here's a question,
Kimberlee
suggested that maybe we should have a themed nail files week! Would you be interested in that? Sometimes it's hard to get inspired, so having a prompt could help. Leave a comment with suggestions on what you'd like to see, and heck, if there's a bunch of ideas, we'll do a few! Let me know if you're game!
In the meantime, don't forget to link up and have an awesome weekend!