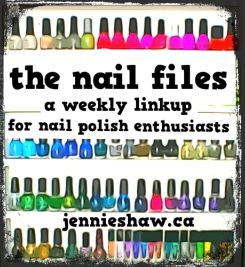 **Link up with us to show off your cute manis (either done by yourself or in a salon), nail polish purchases and/or recommendations, nail polish tips--whatever nail-related thing you'd like! And please use the button and/or link back to this blog. Thanks!**
***
My Julep Maven box came on Tuesday of this week, and I was so freaking excited about their latest purple Denise, that I could hardly get the box open fast enough. But, can you blame me?
*points*
*sighs happily*
I immediately knew I wanted to do something sparkly with these two babies (shocker, I know, haha!), so I grabbed my rhinestones and got to work.


I did two coats of Denise, and three (#sadface) coats of Vanna, to start, and then added dots of Denise onto my feature finger, followed by the jewels. So simple yet SO SPARKLY! Yay for sparkles! Haha!

(Also, I'm loving the title of this post because Julep has a program called "Jules," where you can earn freebies. When I realized I could make a play on words with my jewel-encrusted mani, I couldn't help myself. Haha!)
So Denise is just as freaking fantastic as I'd hoped she'd be but Vanna, on the other hand (ha) was kind of a nightmare to work with. The formula was sheer, but thick, and it took three coats to get almost-full coverage (grrr). The vanilla colour is nice, but I'm sorry to say that Vanna probably won't be coming out to play again (although I will say that I appreciate Vanna being a vanilla colour, haha!)
But, all in all, I'm happy with how this mani came out. Denise is definitely a polish that I'll be obsessed with for the next little while, because it's such a fun, rich and vibrant purple. You've been warned. Haha!
Before I sign off for this week, last week, I threw out the question on whether or not people would like to do a theme week, and the verdict was a YES. Yay! There were some great suggestions, so how about we go with a pretty inclusive theme of May Flowers? You could draw inspiration from a beautiful bouquet, fresh buds that are finally blooming outside, or maybe even rock some nail art! Does that sound good? I hope so! Mostly because I love theme manis. Haha! So next week, if you want, link up a May Flowers Mani! :D
Happy Mother's Day, this weekend, to all of the mommas out there! And don't forget to link up your manis from this week!