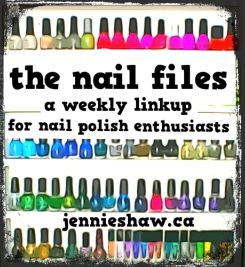 **Link up with us to show off your cute manis (either done by yourself or in a salon), nail polish purchases and/or recommendations, nail polish tips--whatever nail-related thing you'd like! And please use the button and/or link back to this blog. Thanks!**
***
Last week, after announcing the May Flowers theme, I just happened to be on IG and saw this fabulous card by
Hollybeary Creations.
Naturally, the timing couldn't have been more perfect, so I got to work picking out some teals.
And here's what I did!
The nice thing about roses are that they're pretty easy to do, even if you don't have proper nail art tools. After two coats of Paper Mache had dried, I dabbed on a few dots of Too Yacht To Handle, quickly followed by My Way Or The Highway, swirling the colours together. When that dried, I used black Rite Stripe to fill in the centres, and randomly added curved lines for petals, along with a couple of leaves (that didn't quite turn out as I'd envisioned, but were good enough. Haha!).
To finish, I added some light green gems, because I did't have any teal ones, fished out some glitter pieces from China Glaze's Make A Spectacle, along with a few dots of the pearl-y Sea Temptress, by FingerPaints (both of which I forgot to take a picture of--whoops!). A coat of quick-dry top coat sealed everything together.
Aside from my jacked up leaves, I love this mani. It's fun and fresh and there's just enough sparkle. Thanks for the inspiration,
Holly
! :D
What are you rocking this week? Were you inspired by the May Flowers theme? Link up and show off!
Hope you have an awesome weekend!