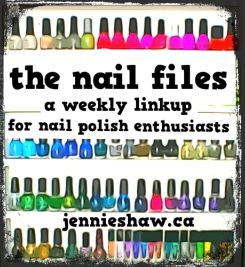 **Link up with us to show off your cute manis (either done by yourself or in a salon), nail polish purchases and/or recommendations, nail polish tips--whatever nail-related thing you'd like! And please use the button and/or link back to this blog. Thanks!**
***
Hey guys and gals! It's Friday! YAY!!
This week, I wanted to try a pattern that I've had my eye on for a while: the super cute and very intimidating, quatrefoil.

*cue the duhn, duhn, duhhhhhhhhhn*

Haha!

These are the polishes I used:
And the mani!





















As this pattern looks hella hard, I watched a few YouTube videos that had different techniques and ended up kind of combining them. Here's a pictorial of what I did (I won't lie; it took a while, mostly because I wanted to be REALLY careful with the dot placement):
For the rest of my nails, I did two coats of Mirrorball, My Way Or The Highway, and Cake Pop. Then I added a single quatrefoil on my thumb, reversing the colours.
I freaking love
Mirrorball
. It's mentalface sparkly in outdoor light.
As I suspected, this pattern was pretty time consuming, but it was sooooooo worth it because of the gorgeous factor. I mean, come on. It's incredible! For a special occasion, I'd totally use this pattern again. With the layering of colours, the possibilities are endless!

Switching gears for a second, last week was our first themed week of May Flowers, and I think it went pretty well! Would you guys want to keep doing theme weeks? Let me know and I'll put together some new ideas (read: troll Pinterest, haha!).
Hope you all have an awesome weekend!