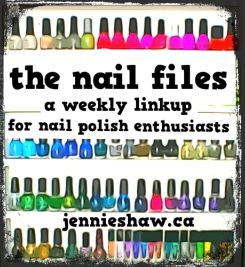 **Link up with us to show off your cute manis (either done by yourself or in a salon), nail polish purchases and/or recommendations, nail polish tips--whatever nail-related thing you'd like! Yay for nails!**
***
For the last week of Sparkle Month, here on the nail files, I decided to go all out and use as many sparkles as possible. Naturally, it made my freaking week. Because sparkles rule!! Haha!
I can't even with this mani, guys.
Can't. Even.
It's so beyond sparkly and I love every single element. Plus, depending on the light, it looks different every time I look at it!
The silvery-sparkle nails have two coats of Mirrorball, but there are three layers of sparkles on my feature fingers. First, I did one coat of Steal the Spotlight and when that was dry, I added two thin coats of Mermaid Tale and Monster Mash, with each colour filling half of the nail. I reversed them as well, just for a little more visual interest. Not that this mani actually needed it. Haha!
For the final touch, I added two rhinestones to each feature nail.
Like I said earlier, loooooooooove.
*sighs happily*
So that brings us to the end of Sparkle Month, and I'm sorry to say that I have another sad announcement. After a lot of thought, I've decided to stop hosting weekly linkups. In April, I recommitted to blogging more and I've found that my nail files posts take twice the time to write/put together as other posts. When I first started hosting, I wasn't writing as much and had more time, but now, things have changed and unfortunately, in order to have a more well-rounded blog, I need to let the nail files go.
But before I shut it down, I'm proposing one final linkup: next week, on August 7th--a swan song to the nail files, if you will. Whether you choose to do a recreation of a past nail files mani, share your ultimate favourite nail colour, or even a collection of pictures that highlight past nail files manis, any post is welcome! Frankly, I'll probably do a combination of all three because I really am sad to say goodbye. That's not to say that I won't still post pictures of my nails, but it'll be mostly on
Instagram
.
So put your thinking caps on for your last link up post, next week. Let's go out with a bang! :)
Hope you all have an awesome weekend!