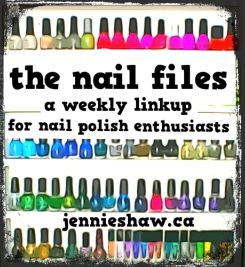 **Link up with us to show off your cute manis (either done by yourself or in a salon), nail polish purchases and/or recommendations, nail polish tips--whatever nail-related thing you'd like! Yay for nails!**
***
It's week two of Sparkle Month, and I have to admit, it was a tricky one for me. I love sparkles like, a lot, but for some reason, it was nail fail after nail fail for me. Isn't that just the worst? Anyway, I persevered and ended up with a more delicate kind of sparkle than I usually do, but the good news is that it wasn't a hot mess. And thank goodness for that. Haha!
I started with two coats of
Vanna
and after that dried, I got started on the sparkle.
Using the nail polish bottle's brush, I wiped it a few times on the rim of the bottle to get a
really
thin coat, and then dabbed
Oscar
onto three quarters of each nail. Because there wasn't much polish, I was able to move on right away to
Carly,
where I used the same technique of wiping off excess polish before adding blue sparkles on top of the gold.
To finish, I used
Harper
to create a teal tip to each nail, but tried to blend it down some, so the line wasn't perfectly straight. The extra, larger glitter pieces in
Harper
really make the tips shine in natural light.
Vanna is such a wonderful, warm, creamy colour and although the formula is a bit on the thicker side, once I figured out that both coats require a floating application (meaning the brush doesn't actually touch your nail, therefore having the polish float with its coverage), it went on nicely. The thin coats of glitter dried almost instantaneously and the combo of the blue and gold micro-glitter is dainty and pretty while still having some punch.

While rocking this mani, I found myself getting distracted by all the pretty, and from my experience, that's the mark of an awesome mani. So although it took a looooooooooooong time to finally get it right, it was worth it. I think. Haha!
What are you rocking this week? Did you have a nail fail of your own? Are you a sparkly sparkle-fest? Link up and show off your pretties, guys! :D