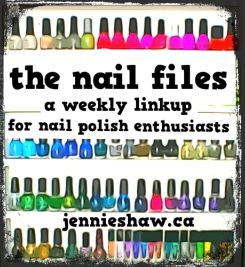 **Link up with us to show off your cute manis (either done by yourself or in a salon), nail polish purchases and/or recommendations, nail polish tips--whatever nail-related thing you'd like! Yay for nails!**
***
I've had a crazy busy week, this week, so that meant I needed a simple mani (as I really don't like having naked nails--oh the horror! haha!). This one took no time at all and I love how it turned out.
To start, I did two coats of Shelly. When that was dry, I used Erin for the tips by carefully starting at one side and then dragging the brush to the other side. I did this twice, to get a solid, straight-ish line. While that was drying, I applied the three loose pieces of holo diamonds. One coat of Glisten and Glow's HK Girl Top Coat sealed everything together.
I love how fresh and simple this mani is, but the contrast of the light grey and light teal give it a bit of an edge. And, of course, the holo diamonds are freaking gorgeous with their sparkle-factor (thanks again,
Beth
!).
What are you rocking this week? Link up and show off! Also, we've got one week left in Sparkle month, so if you've been thinking about joining in on the fun, get your mani ready for next Friday!
Have an awesome weekend!