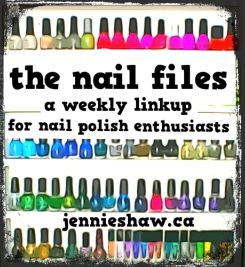 **Link up with us to show off your cute manis (either done by yourself or in a salon), nail polish purchases and/or recommendations, nail polish tips--whatever nail-related thing you'd like! Yay for nails!**
***
Oh em to the gee, guys. It's the end of an era.
Okay, so maybe "era," is a stretch, being that the nail files hasn't been around that long, but still, it's been such a big part of my blogging life that I miss it already. I had a great time going through my pictures from way back in 2012 and I love that it's easy to see how much better I've gotten, both at doing nail art and taking photos of said nail art. Yay for proper nail art tools and a light box. Haha!
Here are a few collages of what I consider my best manis from 2012 to now.
*cue Greenday's Good Riddance (Time of Your Life)*
Ah, the first year. I became a Julep Maven and got my very first set of dotting tools. Oh the fun I had trying to make symmetrical dots! (Read: I cleaned out the white wine section of the liquor store, haha!) Towards the end of the year, I got on Pinterest, which opened up an entirely new world of nail inspiration. I learned so much from step-by-step tutorials!
The highlight of 2013 was getting a feature on Ellen's IG. I did the centre mani for her website (it's a mani of those two adorable little girls from England: Sophia Grace and Rosie) and it's been the Nail Art cover photo on the site, ever since. Definitely one of the cooler nail-related things that've happened to me. For obvious reasons. Ha! This was also the year I added nail art brushes to my nail art arsenal, along with vinyl decals and striping tape. I did two nail art video tutorials this year as well, and because they took so darn long to edit and upload, they were also my last. ;)
For Christmas of 2013, my baby brother bought me a light box, and it made all the difference for 2014's pictures. I also upgraded my lens that year, and I think the photos show a remarkable improvement. This was also the year that I bought rhinestones and studs to up my game. Haha! Gotta love the mega-shine that comes from a rhinestone! Nail care also became a priority in 2014, so it marked the end of my dry-ass skin and cuticles. Ha! In addition to all that, I went to my first Julep Maven Meet-up, in Toronto, and it was super awesome to meet Jane Park and try out new polishes. Yay for sneak previews!
With my polish collection larger than ever, 2015 has been the most diverse year, in terms of colour selection. Because, you know, four years in, I pretty much have every colour ever made. Haha! I started getting lots of inspiration from mega-talented nail artists on Instagram, and tried my hand at far more intricate designs. Some of these manis took forever, but they were pretty freaking awesome and therefore worth the time investment. Except, of course, when they failed. Because yes, even four years after I started, I still have #nailfails all the time. *deep sigh* Haha!
So there you have it. We've reached the end of the very last nail files post. Thank you
so
much for stopping by, leaving a comment, and/or linking up over the last few years. Without you, the nail files wouldn't have gone on for as long as it has and I've loved seeing your pretties each and every week!! And a special shout-out goes to
Kimberly
, who's been linking up since the very beginning. #nailfileshighfive