After what felt like one million years (but was only a year and a half) THE FATE OF THE TEARLING finally made its way into my grabby little hands. I've been a mega-fan of this trilogy,
since the first book
, and I was beyond excited to find out how it ended. So much so that I stopped reading another book, in order to dive in. (Note: I have no memory of having done that before. In fact, I'd tried to keep going but FATE continued to stare at me from my bookshelf and, like a siren song, I could only resist for so long...which ended up being about three hours after bringing it home. #booknerdforlife)
*cues harp strings*
As with all series I review, I won't include the back jacket description because it contains spoilers for the previous books. Instead, I'll share the back jacket from the first book, THE QUEEN OF THE TEARLING, so you can get an idea of what the series is about. Also, you don't have to worry about my review containing spoilers of any description. I wouldn't do you like that. ;)
THE QUEEN OF THE TEARLING back jacket,
from Goodreads
:
An untested young princess must claim her throne, learn to become a queen, and combat a malevolent sorceress in an epic battle between light and darkness in this spectacular debut—the first novel in a trilogy.
Young Kelsea Raleigh was raised in hiding after the death of her mother, Queen Elyssa, far from the intrigues of the royal Keep and in the care of two devoted servants who pledged their lives to protect her. Growing up in a cottage deep in the woods, Kelsea knows little of her kingdom's haunted past . . . or that its fate will soon rest in her hands.
Long ago, Kelsea's forefathers sailed away from a decaying world to establish a new land free of modern technology. Three hundred years later, this feudal society has divided into three fearful nations who pay duties to a fourth: the powerful Mortmesne, ruled by the cunning Red Queen. Now, on Kelsea's nineteenth birthday, the tattered remnants of the Queen's Guard—loyal soldiers who protect the throne—have appeared to escort the princess on a perilous journey to the capital to ascend to her rightful place as the new Queen of the Tearling.
Though born of royal blood and in possession of the Tear sapphire, a jewel of immense power and magic, Kelsea has never felt more uncertain of her ability to rule. But the shocking evil she discovers in the heart of her realm will precipitate an act of immense daring, throwing the entire kingdom into turmoil—and unleashing the Red Queen's vengeance. A cabal of enemies with an array of deadly weapons, from crimson-caped assassins to the darkest blood magic, plots to destroy her. But Kelsea is growing in strength and stealth, her steely resolve earning her loyal allies, including the Queen's Guard, led by the enigmatic Lazarus, and the intriguing outlaw known simply as "the Fetch."
Kelsea's quest to save her kingdom and meet her destiny has only just begun. Riddled with mysteries, betrayals, and treacherous battles, Kelsea's journey is a trial by fire that will either forge a legend . . . or destroy her.
___
The Tearling Trilogy is, in a word, thought-provoking. The themes and plot are strong, and the characters are exceptionally fleshed out, but in THE FATE OF THE TEARLING, there was an added element--a totally unexpected element--that made me go all sorts of: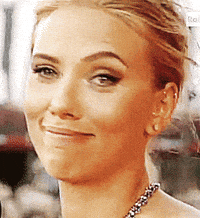 Because in THE FATE OF THE TEARLING, Johansan weaves the story in a way that enables her to make some points. Yep, homegirl has things to say and she's not afraid to say them. So while the internal and external plots centre around Kelsea, a young, badass queen, in a dark fantasy world trying to save her kingdom, there's much more at play.
I've admired Johansen's writing from the get-go and now, I'm just straight-up in awe of her fierceness. Arg! I wish I could go into greater detail, but rest assured that Johansen came here to slay, folks. To the point that I wouldn't be surprised if a certain demographic wants to burn this series. Like, actually set it on fire. Luckily, I don't think that demographic would've picked it up in the first place, but for real. How unbelievable an achievement is that? To create art that has the power to polarize; to get underneath readers' skin and challenge the status quo? Johansen is basically the Sasha Fierce of the fictional fantasy realm, strutting into my imagination like: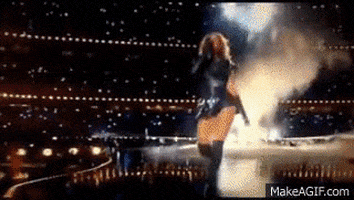 The closest comparison I can make would be
THE FIREMAN, by Joe Hill
, which may not make much sense at first, because it's primarily considered to be a horror, but both novels wrestled with the same themes. Namely, what people are capable of doing in the name of what they believe, and how the tendency to label somebody as "other," no matter the intentions, never ends well, both for the labeller and label-ee. They also grapple with the idea of there being no such thing as a perfect society, because people, in their very nature, aren't perfect. Every single human is susceptible to becoming a bully and a dictator, with "absolute" truths guiding their actions. But what happens when you learn that your truth isn't as absolute as you think? Would you have the courage and fortitude to change your behaviour? These are the sorts of questions that Johansen (and Hill) pose, and just like in real life, there are no easy answers.
The only downside to Johansen's fierce (and incredibly relevant) conviction was my slight disappointment with the final instalment. Did the second and third blend together seamlessly? No. They didn't. Each book almost stood on its own, which meant that not every storyline was tied up.
So while THE FATE OF THE TEARLING went in a direction that I wasn't anticipating, I appreciate what Johansen was trying to do. If you repeat the same mistakes, you get the same outcome. But if you can summon the strength and awareness to break the cycle, you can pave the way to a new world. And through the battles, sieges, and moments of pure hopelessness, that's precisely what Kelsea does.

Now that the series is over, I have no idea what genre the three would fall under. For me, I guess it would be somewhere between fantasy, historical, and dystopian. But honestly, who cares? This is a seriously good series. Be warned, though, because there's no lack of extreme violence, misogyny, and bigotry. Johansen's note at the very end of FATE stated that was purposeful because our world is no stranger to those elements. See what I've been saying? Johansen is here to hold up a mirror to ourselves--to inspire us to think about topics that we take for granted--which is why I'll continue to read everything she writes.
__
For this mani, I used:
OPI - Rollin' In Cashmere, Yoga-ta Get This Blue, matte top coat
Julep - Eliza
China Glaze - Sexy In The City
Color Club - Over the Moon
ORLY - Skinny Dip
Black and white acrylic paint
Tools - small dotting tool, trimmed striping brush, piCture pOlish nail art brush no. 9